about teaching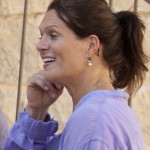 Nicole Kehrberger has a long lasting experience as an award winning actress, acrobat, aerial artist and dancer on international stages.
She combines all those disciplines in her teaching.
For over 13 years Nicole has worked as master teacher at the Ecole Philippe Gaulier, since over 20 years she teaches acting, acrobatics, dance, vocal and movement all over the world and is today one of the most sought-after teachers in her field.
For Nicole acting starts with the body: "the physical sensibility and the presence on stage form an essential basis for a good actor."
Her body work is multifaceted. It varies from acrobatics to energetic dance, stretching and relaxing skills, Pilates, Shiatsu and Feldenkrais.
cv
In 2011 Nicole established her international theatre summer school in Berlin (every year between June and August)
2018 neutral mask and greek tragedy in Kuala Lumpur, Malaysia
2018
bouffon workshop in Bristol, England
2015-2017
acrobatic "Scuola del Teatro Stabile Torino" Italy
2015
Clown training seminar, Dream Doctors from Israel
2014
Clown training seminar, Red Noses, Berlin
2012-2014
acrobatics at the "Scuola del Teatro Stabile Torino" Italy
2011
Nicole opens her International Theater Summer School in Berlin
1998-2011
teacher for acting and movement at the Ecole Philippe Gaulier • London / Paris
master courses: Bouffon • Clown • Shakespeare • Chechov • Mask play • Neutral mask • Greek tragedy •Melodrama • Vaudeville • Character • acrobatics • voice training • movement • improvisation
2004-2012
aerial artistic and acrobatics • Scuola Galante Garrone • Bologna • Italy
2011
Sounding Jerusalem Festival: theater and acrobatic workshops in: Talitha Kumi, Beit Jala, Adh Dhahiriya/Hebron, Al Sultan Spring Jericho, Mount of Temptation Jericho (Sunrise concert), Jerusalem • Israel / Palestine
2009
acrobatics • Halifax • Canada
2006
École des Maitres • acrobatics and movement • Italy, Spain, Portugal
2004
dance and movement improvisation • master course • Studio d' Opéra Lyon • France
2004
acrobatics • Theaterfestival Rose des Vents Lille • France
2003
acting workshop • International Theater Festival • Porto Alegre • Brazil
2003
acrobatics • Theaterfestival Grieco Barcelona • Spain
2003
acrobatics • TnT- Theater Festival Lyon • France
2002
acrobatics • Teatro Garibaldi • Italy
2001
movement training for actors • Mimezentrum Berlin • Germany
2001
clown • acting school "die Etage" • Berlin • Germany
2001
clown • Theaterakademie Vorpommern • Zinnowitz • Germany
1997
dance improvisation • summer workshop • Tabano Theater Stockholm • Sweden
1995
voice training • Scuola Teatro Dimitri • Switzerland
1993-1995
pantomime / dance / improvisation • Scuola Teatro Dimitri • Switzerland
subjects taught