Bouffon, an act of a rebellion
No, Bouffon is not Clown, actually it is far away from clown and yet he can be funny, ironic, nasty. Bouffon is a rebel and very smart and most of the time ugly and incredibly charming. He is merciless with society- not afraid to tell the truth.
This course will explore new approaches the specialist technique of Bouffon. Nicole works using physical training, improvisation and games/play to develop your artistic practice and helping you break new ground as performers.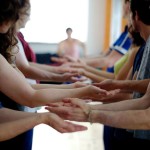 We start every days lesson with an intense movement training of about 1,5 hours using elements of acrobatics (everybody, no matter which age or size, can do it!), awareness-training, energetic dance, stretching, relaxation, workout fitness, Pilates, Shiatsu and Feldenkrais. The movement class is an indispensable part of the workshop.
Please bring comfortable and elegant, clothing
Number of participants: max. 15 p.
Nicole teaches in english, but can translate into German, French, Italian and Spanish.
Fee: 420.- Euro
– 25% discount also for non students if  booking all workshops 
– we give student discount also for single workshops