about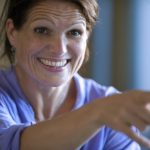 Nicole Kehrberger has a long lasting experience as an award winning actress, acrobat, aerial artist and dancer on international stages.
She combines all those disciplines in her acting and in her teaching.
She has worked as an actress in theater, film and TV with directors such as Antonio Latella, Jean Martin Moncéro, Stefane Lebard, Wolfram Hundhammer, Herms Meer, Naruna Kaplan de Macedo, John Mc Mullin, Peter Key, Joss Houben, Cédric Behrel and many more.
Over the past 13 years she has worked as master teacher at the Ecole Philippe Gaulier, since over 20 years she teaches acting, acrobatics, dance, vocal and movement all over the world and is today one of the most sought-after teachers in her field.
As an aerial acrobat, choreographer and director she has realized many projects around the globe since 1998.
In 2005 she founded the theater association Totales Theater International together with artists from different artistic and national backgrounds. The first production, in coproduction with Teatro Stabile dell´ Umbria and the Turin Festival delle Colline Torinesi "Study on Medea" directed by Antonio Latella, won the UBU prize for best show of the year.
Nicole founded her International Theater Summer School in Berlin in 2011. Students from the US, Greece, Switzerland, Austria, France, Italy, Belgium, Netherlands, England, Israel, Argentina, Mexico, Australia and Germany participated in these first years workshops.
In 2012 she founded and literally built the "Barfuss Theater" in Berlin together with her partner Michele Andrei.
international awards
International awards
2009 • Premio Adelaide Restori for best actress at the international theatre Festival Cividale, Italy
2008 • Premio UBU – best show (Studio su Medea) Regie: A. Latella, Medea: Nicole Kehrberger, Italy
2008 • Nomination for the Golden Graal in Rome, Italy
2007 • Premio della Critica (Critics Award) for best actress in Italy
2003 • Nomination by Ubu – Libri for best choreography in Italy
languages
Languages
German (mother tongue)
Italian, English, French (very good)
Spanish (fluently)
Greek, Arabic, Portuguese (basic)
Allemanisch, Swiss- German (dialects)
special abilities
Special abilities
aerial artistic (trapeze, silk, wall dance, bungee)
stage – fighting
dance (modern, standard, latin)
horse riding (jumping and dressage)
skating
skiing
open water diving
singing (mezzo soprano)
accordion
flute traverse
piano
portraits
More on Wikipedia